Holidays are right around the corner! This is a day dedicated to giving thanks and spending quality time with your loved ones. If you are hosting Holiday this year, you may be wondering how to go about decorating the table. The table is one of the main places where this holiday takes place. The day consists of eating delicious food and dessert. Every host wants their table to make their food look amazing, and to warm up their home. We have some great tips for decorating a Thanksgiving table on a budget!
Shop at your local Goodwill
Goodwill is a great place to find holiday decor. Shopping with us means that you can reduce your impact on the environment, find unique one of a kind items, and avoid spending too much money. Goodwill of Silicon Valley has a wonderful selection of Thanksgiving decorations just waiting to be found! There is an array of options for cookware, crockery, silverware, napkins, beautiful glasses, tablecloths and fun Thanksgiving style decorations. Take the following tips that I'm goin to give you, and head on over to your local Goodwill! We are sure that you can make a beautiful table setting for your Holiday feast.
Table cloth and table runner
There are a few ways to easily dress up a dinner table. A full table cloth will cover the entire table. If there are any unsightly table surface issues you would like to hide, this is a good option. If you have a beautiful table that you would like to be seen, a table runner is the best choice. A table runner establishes your color scheme. From there, you will move on to the center piece and decor.
Create a Centerpiece
You will need to choose a theme and color scheme for your table.
Here are some beautiful and easy ideas for centerpiece decor : 
Lots of candles! Candles make a beautiful centerpiece whether they are lit, or not. You can use them to line the entire center of the dining table from the middle through to the ends. Or, candles can be used as extra to add to your center piece. You may be able to find some beautiful candles or candleholders at Goodwill.
Pumpkins create a very fall-like theme. Whether you find some faux pumpkins at your local Goodwill, or purchase them from the store, these are sure to make a great addition to the centerpiece. Small pumpkins about the size of your hand are probably the best size to make sure they don't take away from everything else. Check out this DIY for glamorous yet inexpensive ideas.
An elegant greenery centerpiece is another beautiful idea. This will run down the center of the table. Gather eucalyptus leaves and make into a garland. Then add in olive branches to create the effect. Candles will tie it all together!
Sunflower centerpiece. If you are able to find a beautiful bouquet of sunflowers, snag them before somebody else does! Put them into a beautiful vase from Goodwill. If it looks like it's missing something, then add in some natural elements such as twigs, pampas grass, or leaves.
There are so many great ideas for Thanksgiving table centerpieces!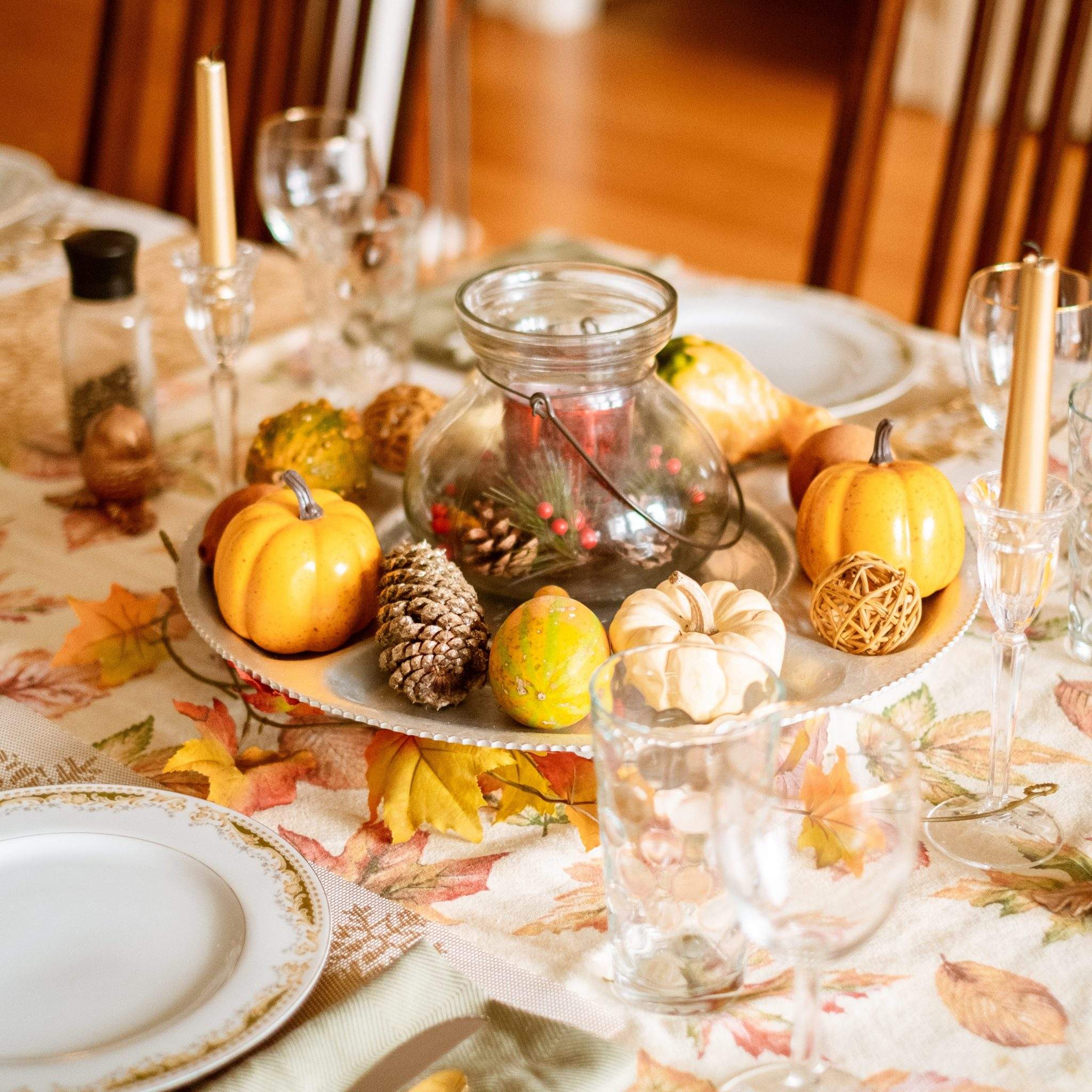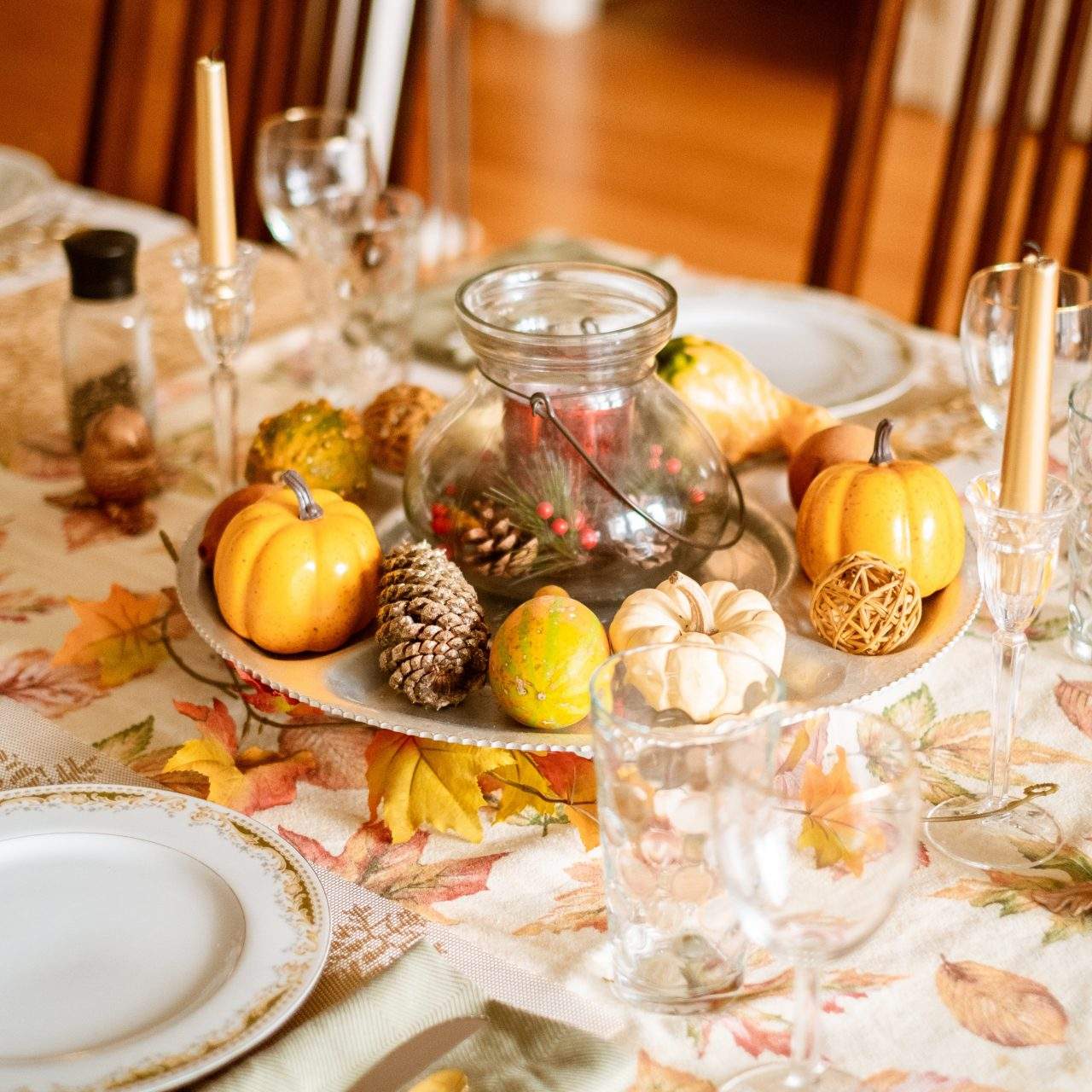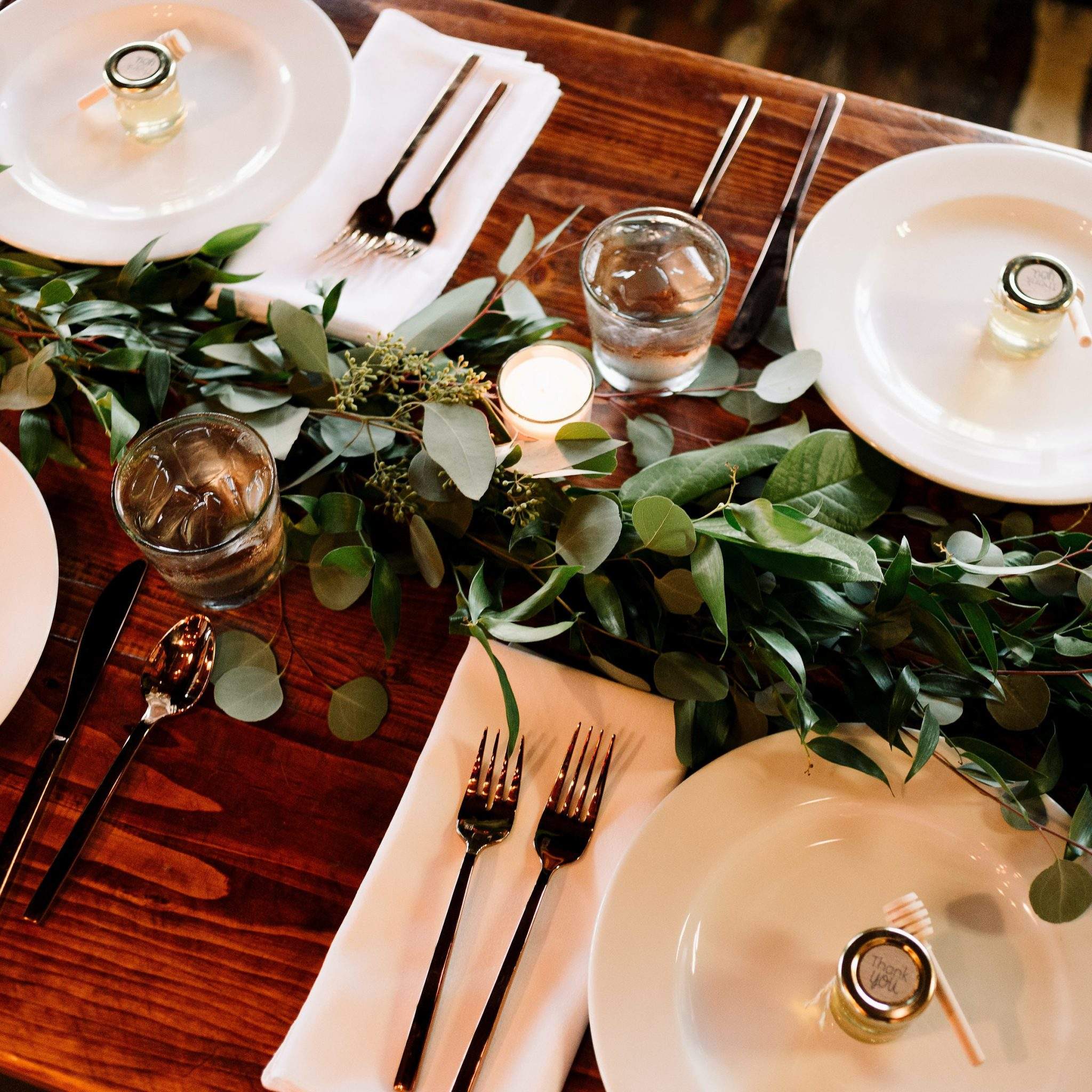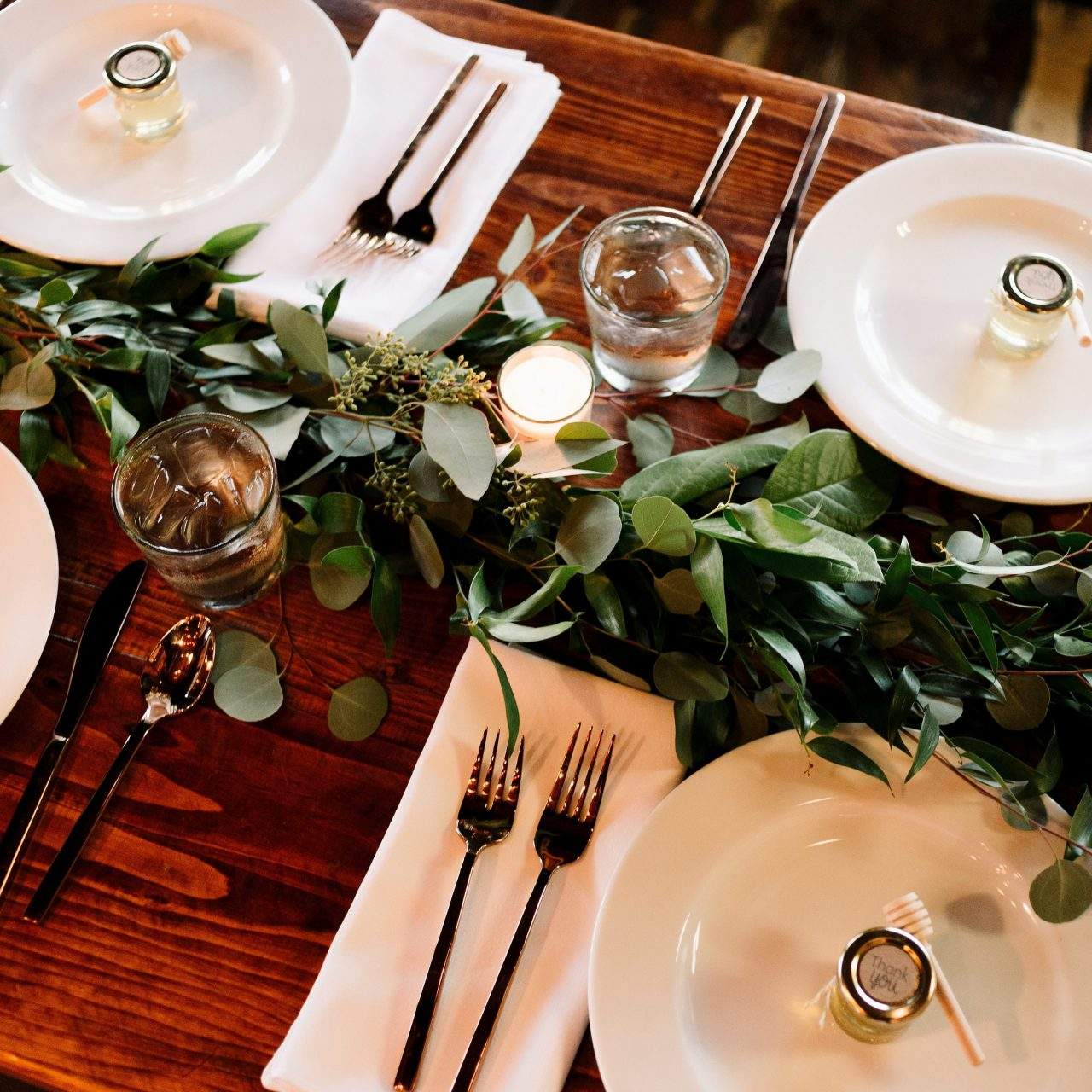 Setting the table
Once you have the centerpiece all figured out, next comes setting the table! Some people choose to be formal, or informal. Having a beautiful set of fancy serve ware is a plus. Take a look at Goodwill and see if you can score something while thrifting!
Here is a Thanksgiving Day table setting :
First comes the dinner plate in the middle. Place a smaller salad plate on top with a folded napkin. You could make printable name cards, or fold the napkin nicely with a little twig or something similar in order to tie it in with your centerpiece.
Knife and spoon on right hand side of the plate
Dinner fork on the left. Salad fork on the left of the dinner fork.
Above the plate, place wine and water glasses on the right.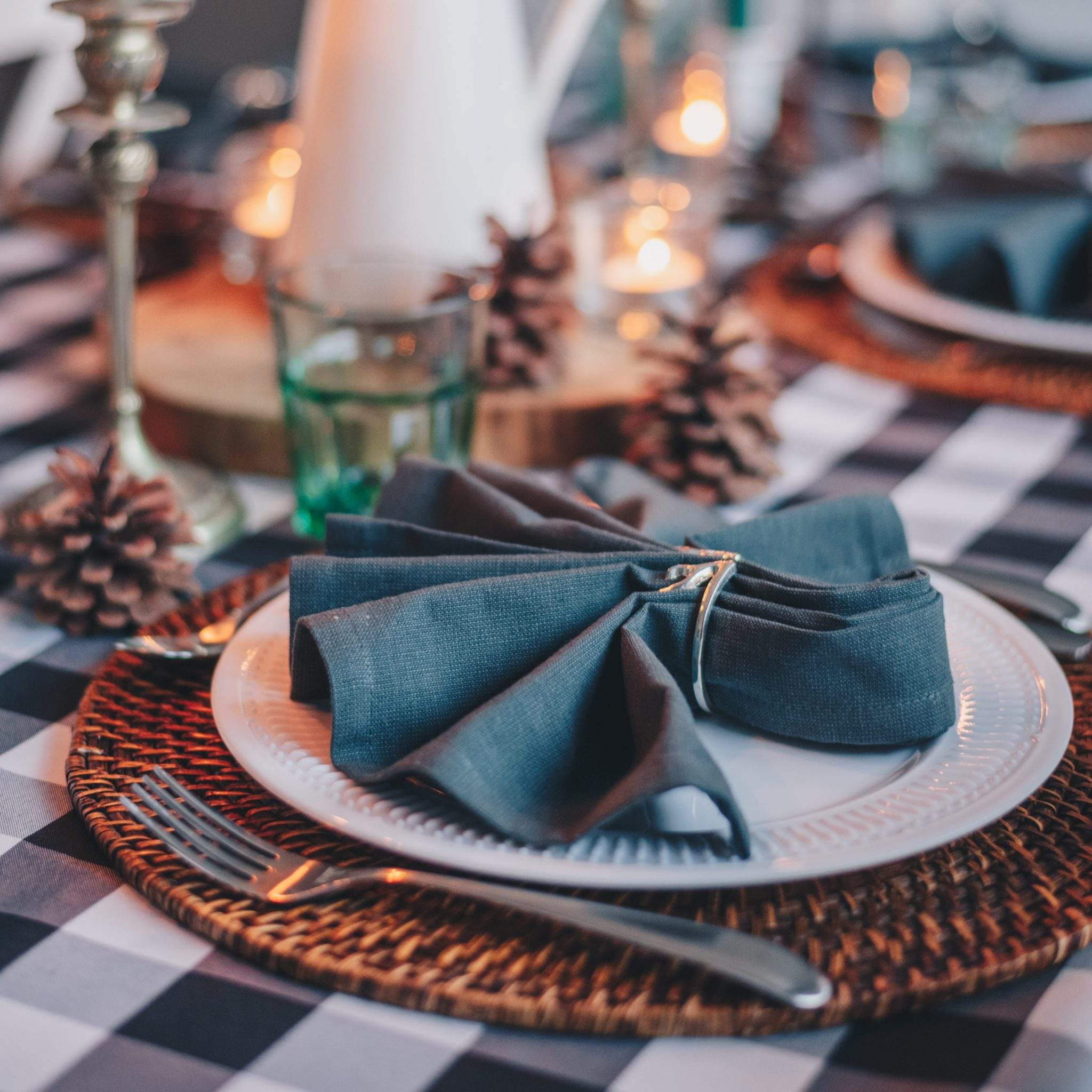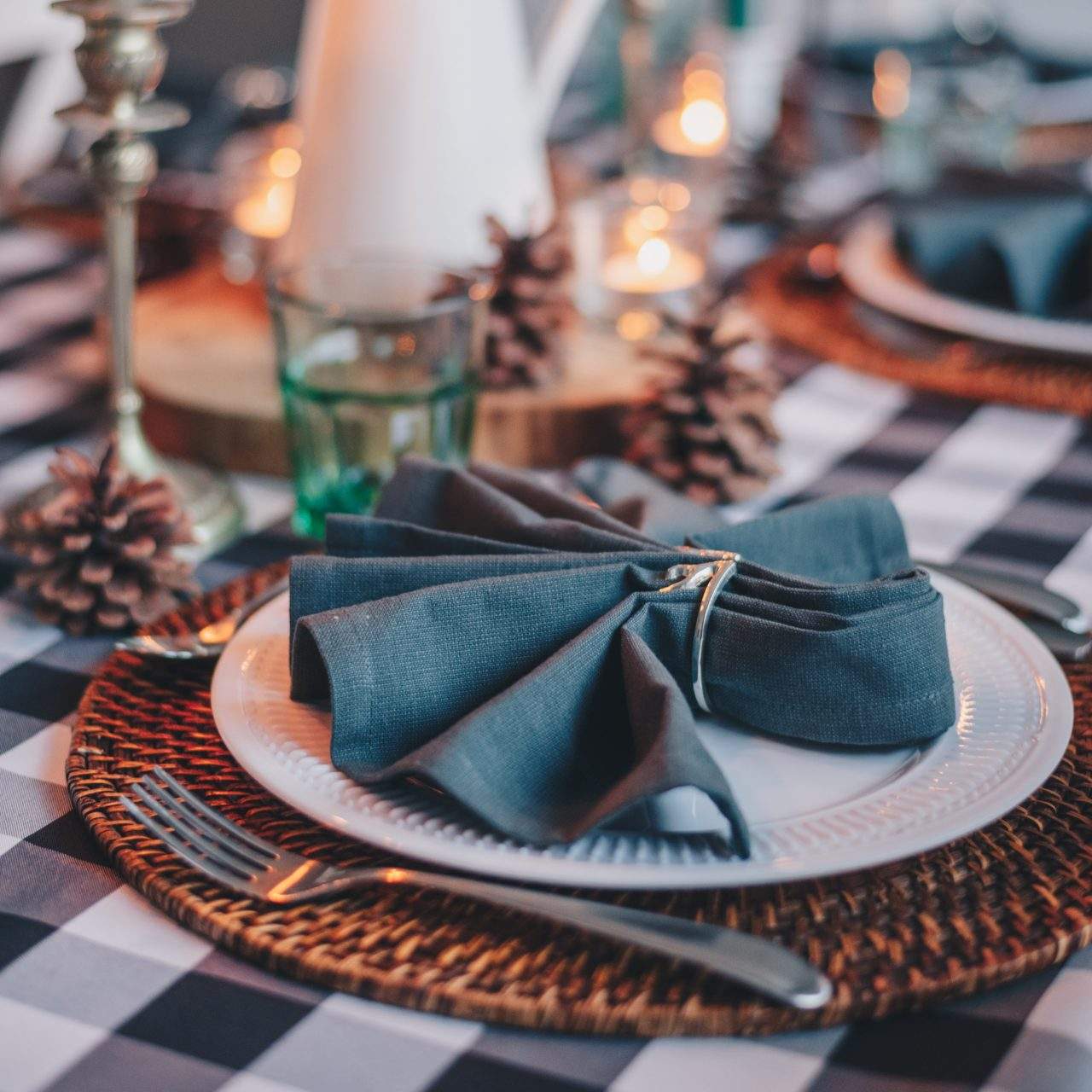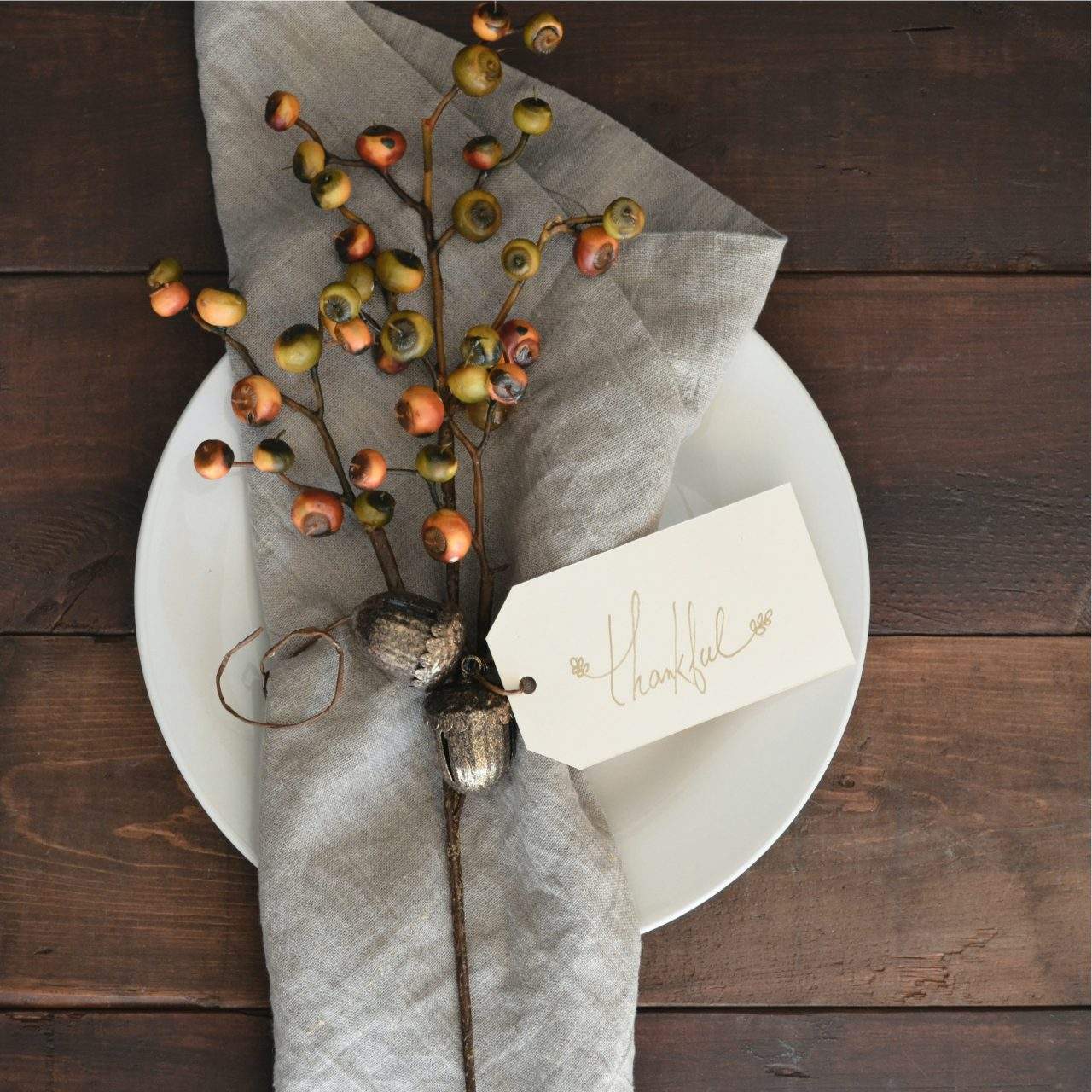 The Food!
Let your food assist you in making the table come to life. Beautiful serving plates, garnishes, and making the food presentable will help create the perfect Thanksgiving table. Your guests will be excited to eat as soon as the food comes out!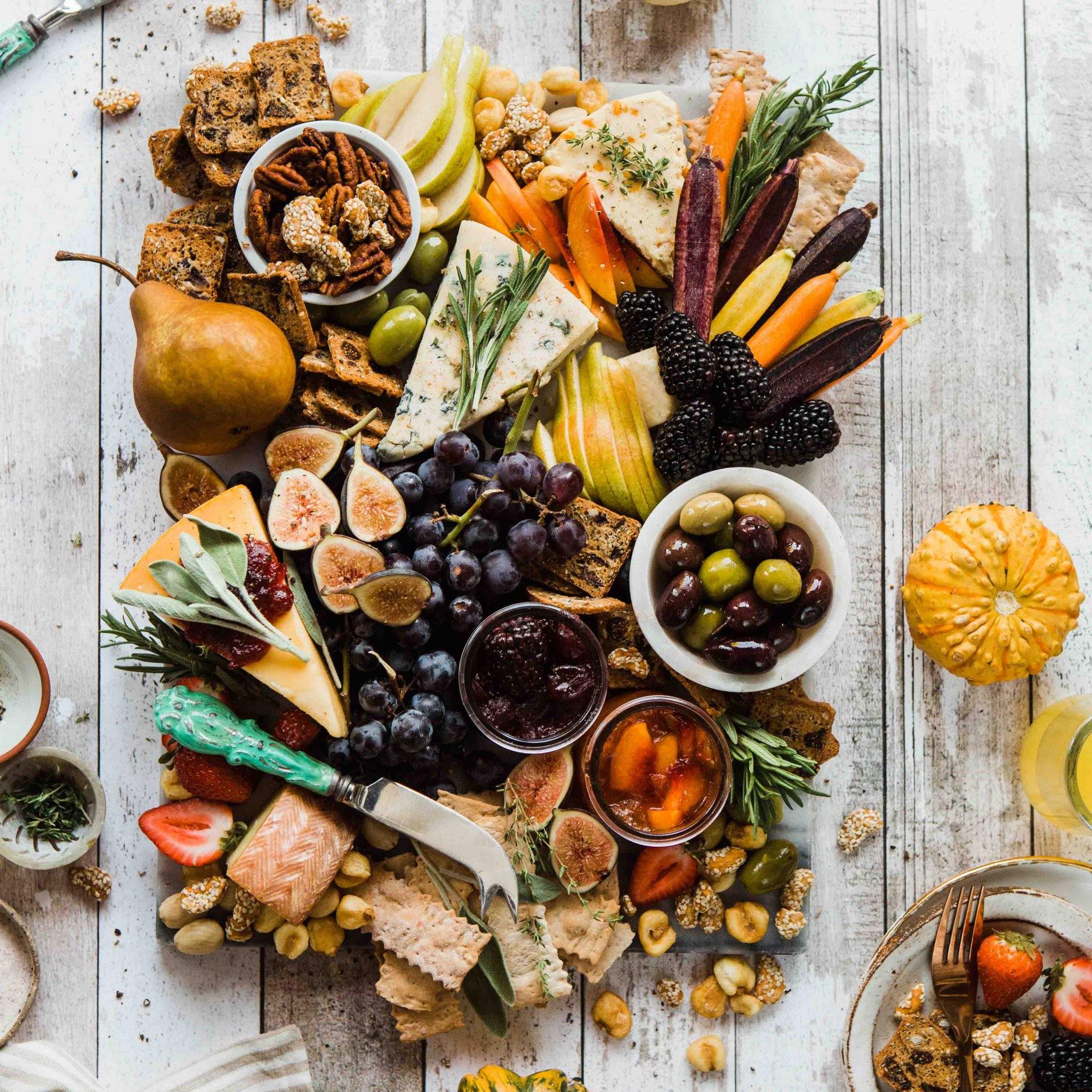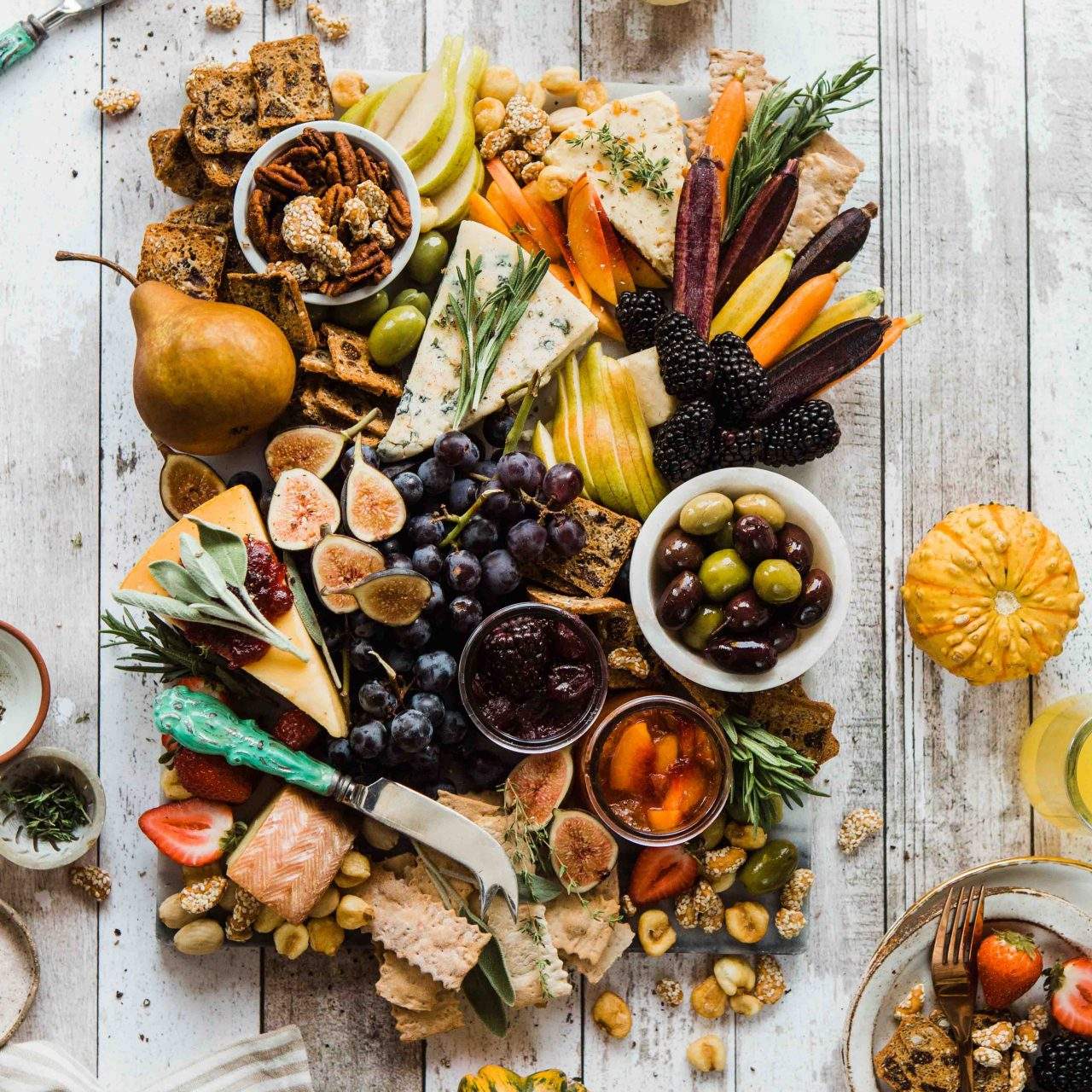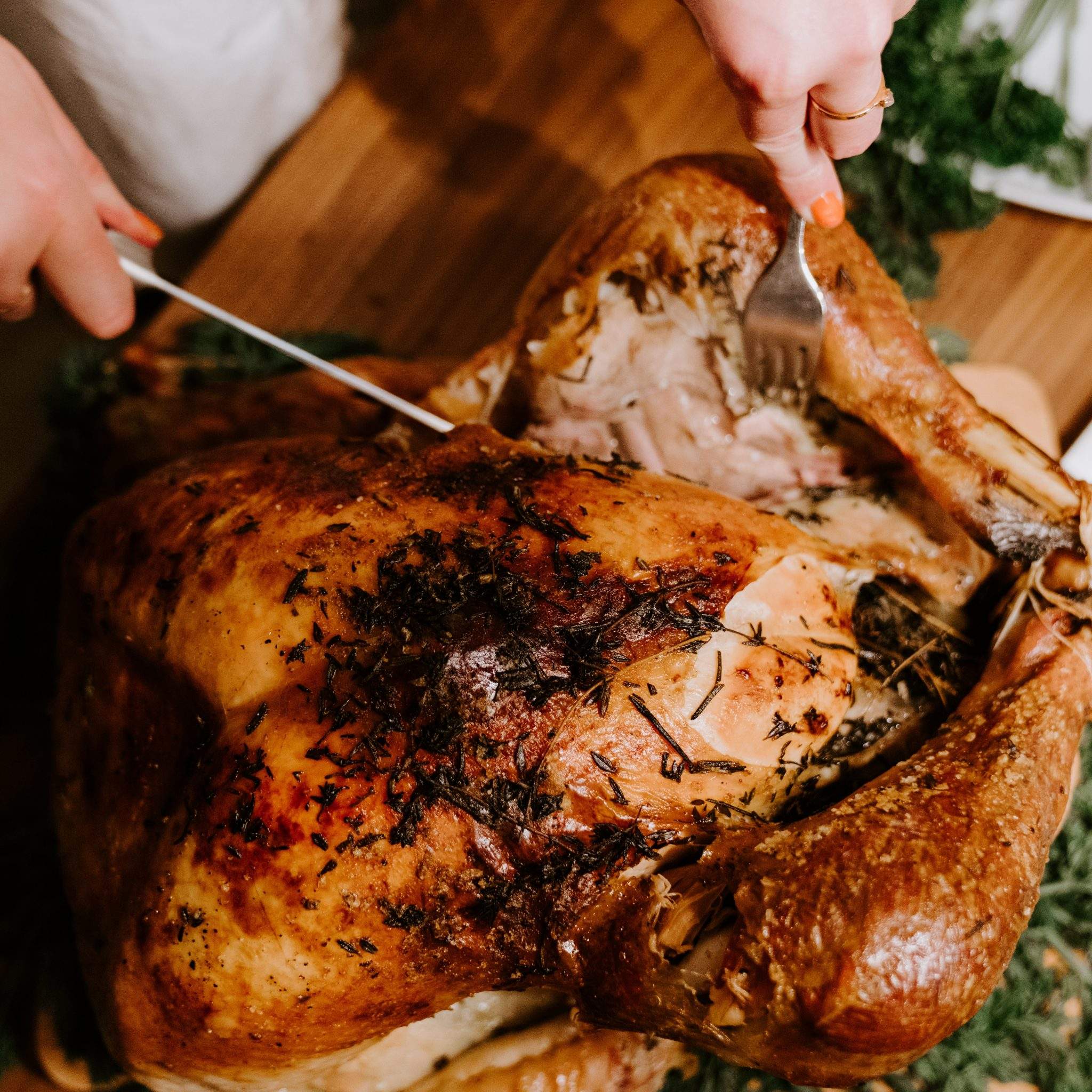 We hope that these tips for decorating a Thanksgiving table on a budget were helpful. Remember, it's not too late! Go get your decorations now, and wow your guests with your dinner-hosting skills.