It's officially October and Halloween is just around the corner. Are you having trouble deciding what to be this year?! Head on down to your local Goodwill to get some inspiration. Goodwill Silicon Valley has over 18 retail stores to serve you in the Santa Clara County and the surrounding areas. Shopping at thrift stores is not only great for the environment, but it's also great for your pocket! Ari and Mindy are thrifting experts! They have put together a DIY Halloween costume from Goodwill this year. These ladies look absolutely adorable! Whether you are looking to be something cute, scary, sexy, funny, or unique…Goodwill has it all!
Thrifting your costume is great for the environment
Purchasing items second hand or "thrifting", has become a very popular way to shop.  A huge part of thrift store shopping is the role that it plays in helping the environment. As Ari states in the video : "I really love the sustainability act of thrifting. The environmental impact is that by thrifting, you are saving clothes from going into a landfill." Shopping at a local thrift store is a simple and easy way to go green! Manufacturing, producing, packaging and distributing new clothing takes an abundance of energy and water. Choosing to buy second hand helps reduce waste. Another way you can help out is by donating previously loved items that no longer serve a purpose in your home or closet.
Instead of supporting fast fashion, you can reduce, reuse, and recycle clothing to create a sustainable Halloween costume. There are plenty of hidden gems just waiting to be found. With a little bit of creativity, you will be winning the costume contest all while saving the planet!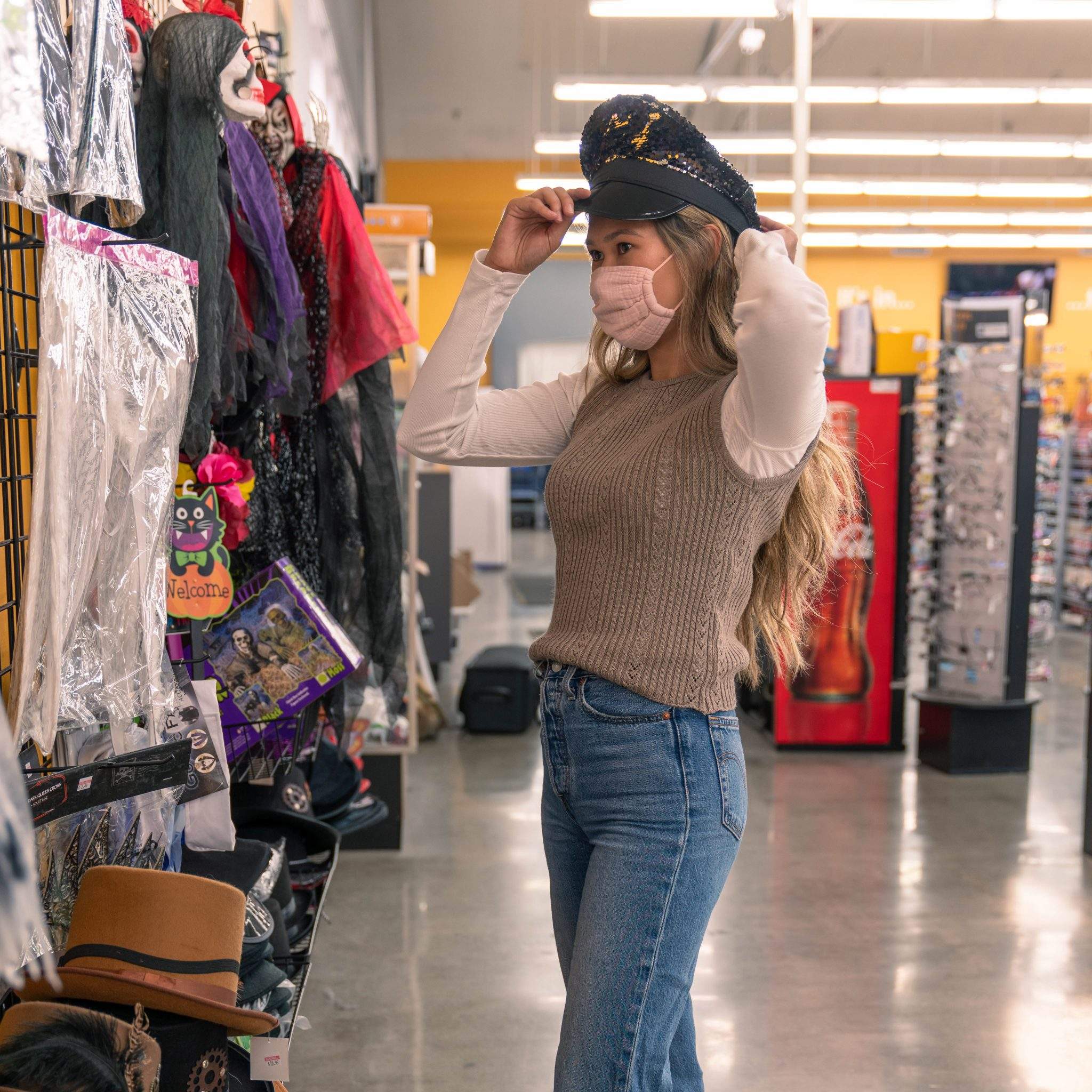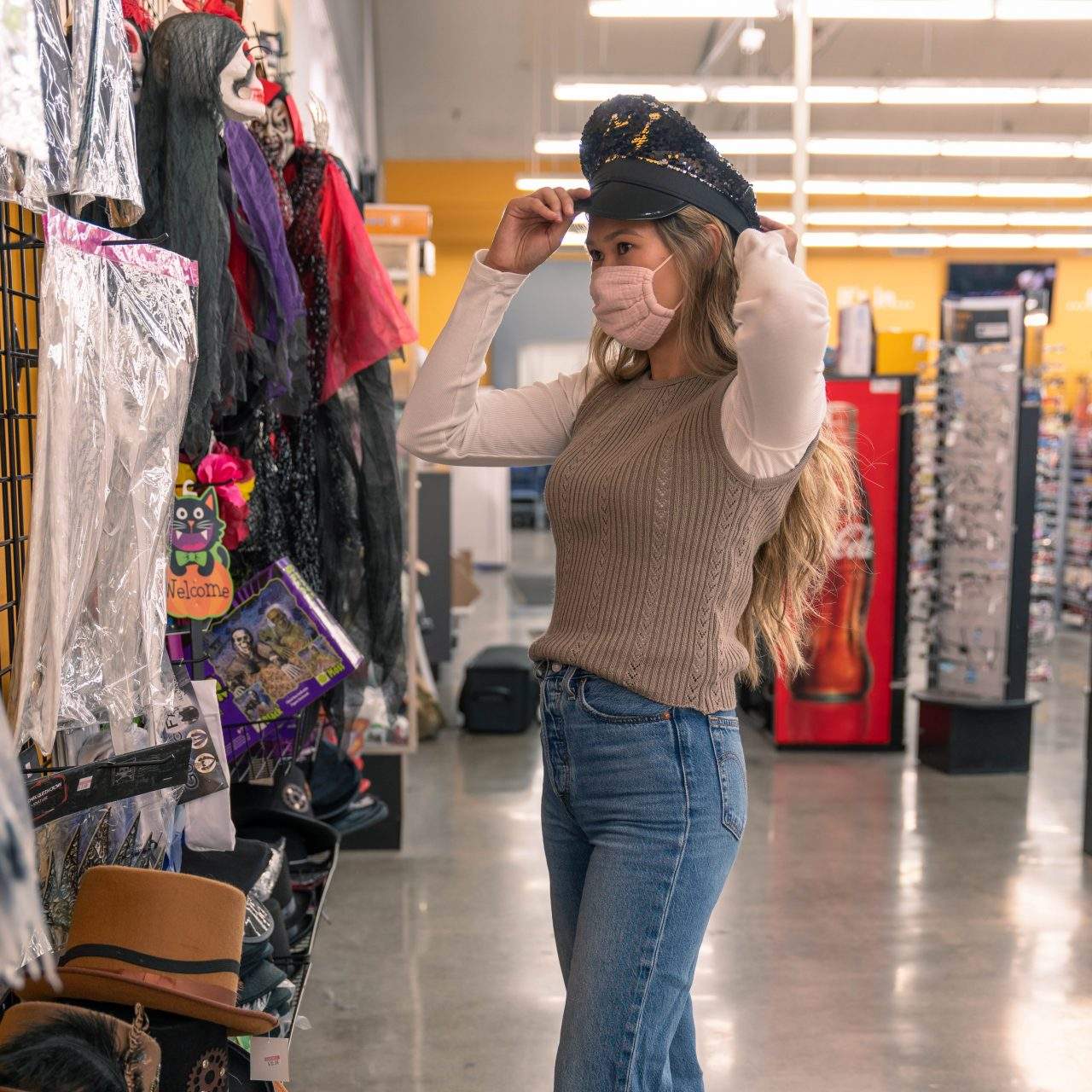 What are your favorite items that you have ever thrifted?
Thrift stores are amazing for finding one of a kind items! I think this is one of the main reasons why thrifting has become so common. These days, many people shop at the same stores or brands, leaving everyone dressing a bit similar. What ever happened to being unique?! Well, when you shop at a Goodwill, each and every item is different from the other. Leave your favorite thrifted items in the comments below!
Ari's favorite item was a pair of Vintage Prada Heels, and Mindy's favorite item was finding a Gucci Sukey bag.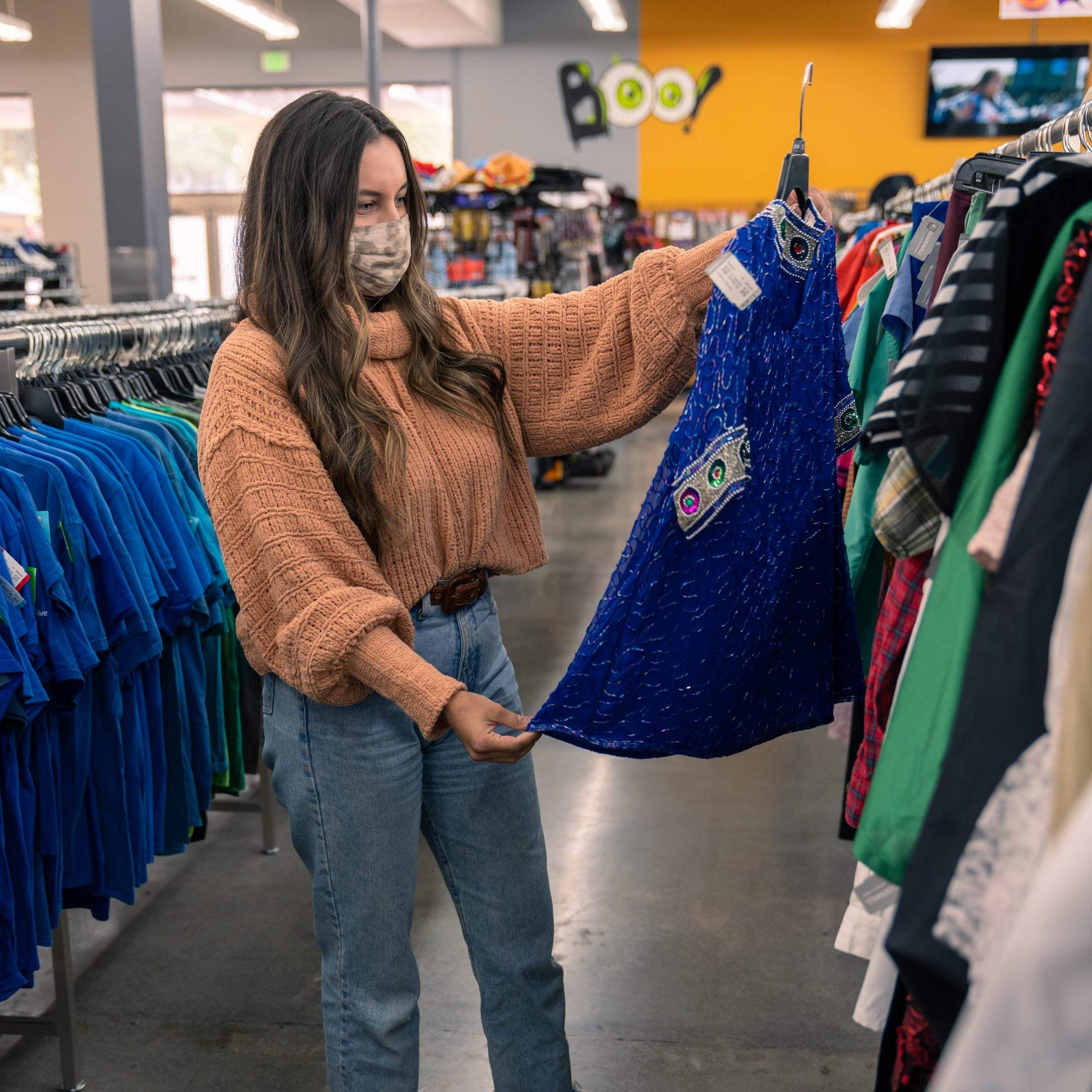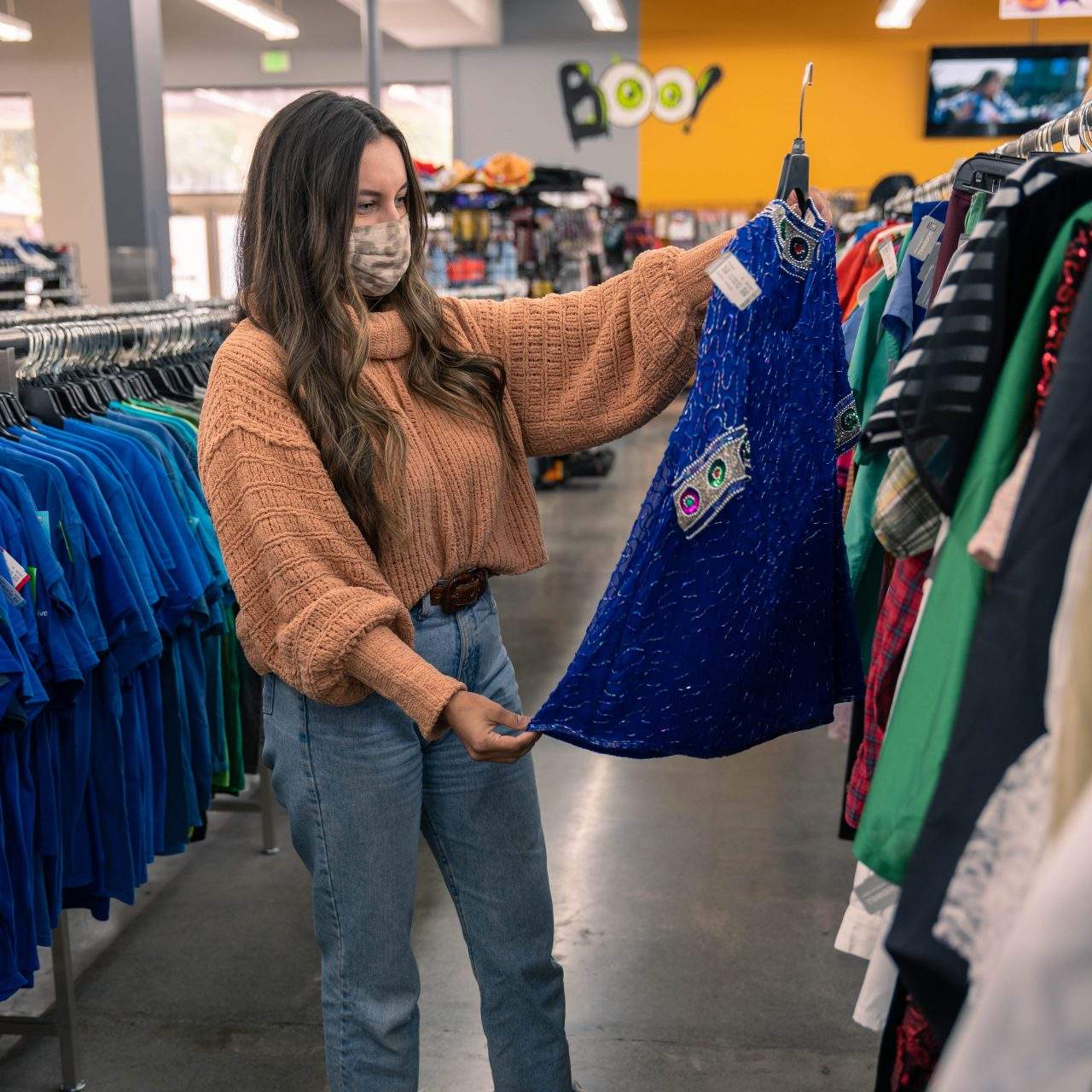 Ari & Mindy Create Matching Cowgirl Halloween Costumes
These ladies felt like getting creative, so they went to Goodwill and put their costumes together.
Here are the items they found, for their Cowgirl Costumes :
Hot pink cowgirl hats
Both of them wore tops that somewhat resembles being a cowgirl. Ari wore a cropped jean jacket with a white top underneath, while Mindy wore a light pink long sleeve paired with a zebra vest.
Ari found some cool pants with cow print on them and Mindy found a pair of nice black velvet flare pants.
Pairing the pants with a belt, gives the costume a more "cowgirl" vibe!
Last but not least, the cowgirl boots!! Any boots will do for this DIY costume. Ari & Mindy chose white and black boots.
Have fun! Creating your own unique costume is about having fun, and piecing together an item that no one else has!
Another Creative Halloween Costume Idea
Don't feel like dressing like a Cowgirl?! How about a Queen Bee! You can definitely create this costume from your Goodwill thrift store finds.
Here are some fun ideas for this costume :
Yellow and black is key! It can include anything from polka dots to stripes.
You could wear a jumpsuit, a dress, a matching set, or a yellow top with a black tutu.
Black/sheer tights or fishnets would pair well with this outfit!
Adding some wings, a crown, or a headband that are yellow or symbolize "bees" will be the icing on the cake! Have fun with some pretty makeup or glitter and voila!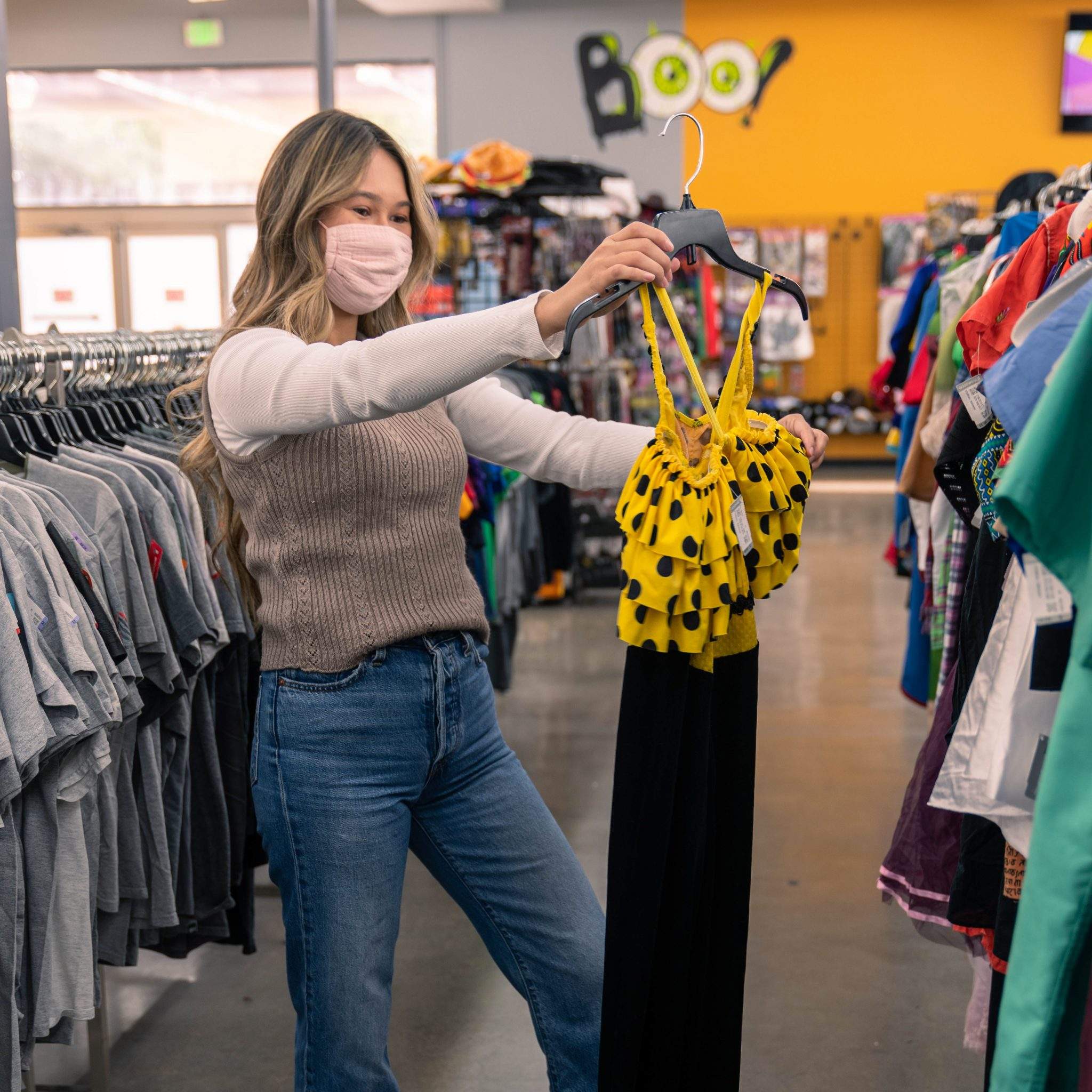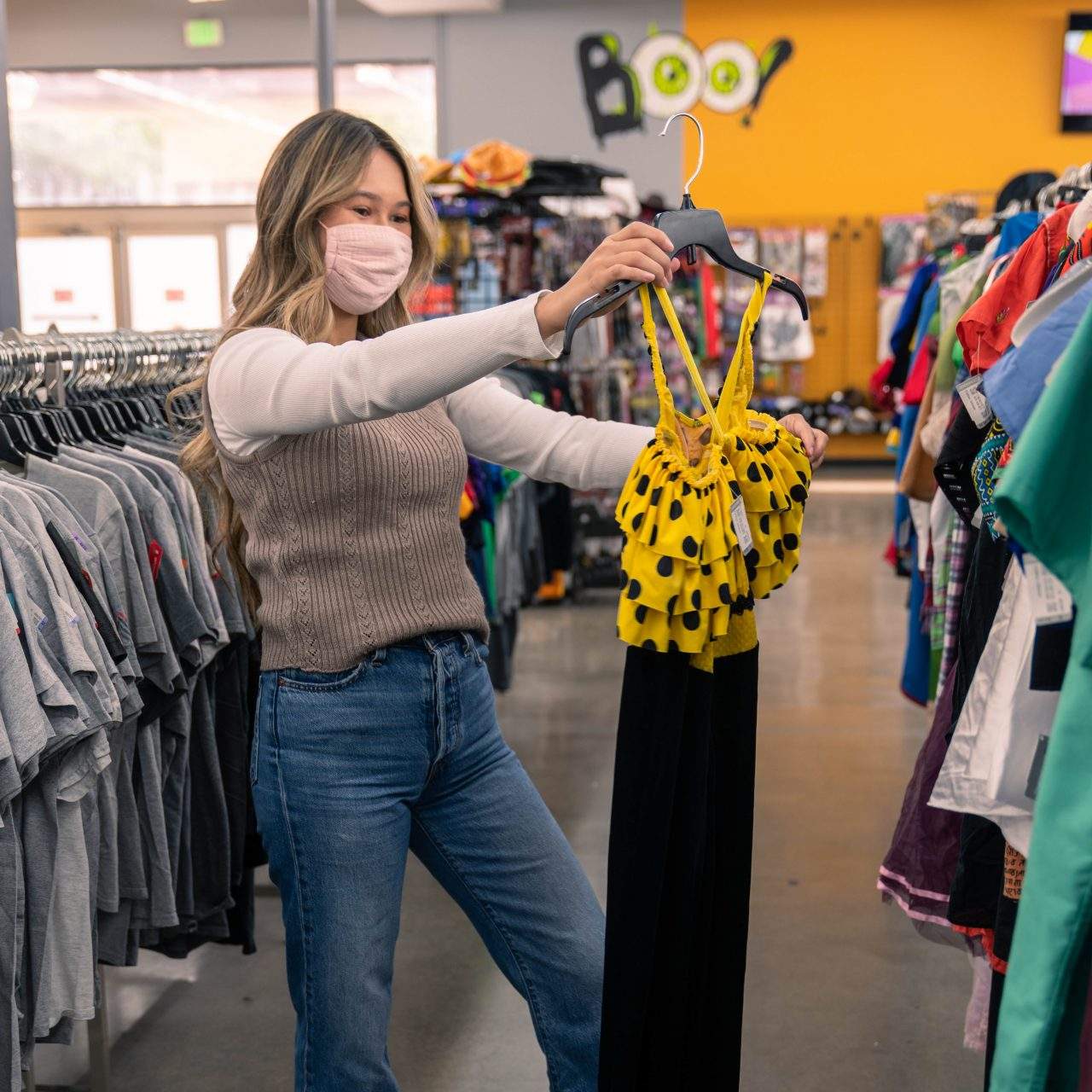 We hope that you enjoyed our DIY Halloween Costume from Goodwill! Follow us on Instagram & Facebook for more fun DIY costume ideas!
Find The Closest Goodwill Store